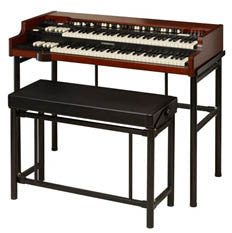 Hammond XK-5 Heritage Pro System Organ
---
Hammond XK-5 Heritage Pro System
* Call us for best price and shipping quote!
XK5 Heritage Pro System:

XK5, XLK5 lower manual, new Pro
Bench (BK), new Pro Stand (BK)
XPK250BK Pedalboard (option, not shown)
The revolutionary new XK-5 is the "spitting image" of the classic Hammond B-3 with one exception. Missing is the 450lb. weight! On its custom folding metal stand, the easy-to-transport Double Manual Heritage Pro retains the exact proportions of a B-3, complete with B-3 style 25 note pedalboard (not pictured), swell pedal and matching bench. And best of all, it weighs in at HALF of the original, retaining ALL of the sound and soul.
XK System Series
The single manual XK-5 forms the basis of our new Heritage Series, letting you configure as large or as small a system as your gig requires.
For adding flawless and inspiring Hammond organ sound to your existing multi-keyboard rig, simply purchase the XK-5 single-manual unit. It contains all the tone-generating "brains" in case you want to expand later. From here, two systems offer a choice between contemporary or traditional looks for players who require dual manuals and/or pedals.
XK-5 Pro System
This system is best for touring musicians who carry their own gear but require a full portable B-3.
The new XLK-5 lower manual uses the same key-bed and multi-contact system. It features the same high-quality cabinetry as the main unit, with vertically extended side panels designed to cradle your XK-5. Remove the existing side panels from the main unit (a quick and simple operation), slide it into place, and you have an integrated dual-manual rig with a seamless appearance.
Jazz players who kick bass can add the XPK-250 two-octave radiating pedalboard, which includes our new EXP-250 expression pedal. Though the XK-5 is compatible with previous XK-3 and XK-3C Pro System expansion products such as the XLK-3 lower manual (though you'll only get the multiple key contacts on the XK-5 itself), all the new components interconnect via H-BUS, our new connector that simplifies setup by carrying both data and power.
Rounding out the options are the open-footprint aluminum Pro stand, which folds for easy carry, and matching bench
---
Share this Product